FACT: The most profitable skill you can
ever master is the skill of trading
Give Me 5 Minutes And I'll Show YOU How To
Become That Trading Master...Guaranteed

Foreword by Dr. Alexander Elder
author of Trading For a Living
"Top Trader Reveals Amazing Trading Breakthrough That's
Exploding The Profit Potential Of Traders Worldwide"
I Am Convinced It Will Do The Same For You

Allow me to introduce myself. My name is Paul Handforth. Chances are you haven't heard of me before. But by the time you finish reading this page, you'll be glad you finally did.
If you are trading, or considering trading any market in the world, this could be the most eye-opening few moments you will ever spend. Hang on to your hat...
...because The Way To Trade by John Piper is simply dynamite.
No matter if you're:
| | |
| --- | --- |
| | Trading indices, stocks, e-minis, commodities, options or forex |
| | A beginner or fully experienced trader |
| | Day-trading, swing trading, position trading, trend trading |
| | Whether the market is up or down... |
... The Way To Trade will revolutionize your trading. As you study every word of this book, you'll be astonished you survived without it.
A growing wave of excitement is sweeping the world of trading now. Discover the shocking reasons why below....
Choose Your Own Rewards
How much do you think your efforts as a trader could be worth? $1000 per month, $1000 every week, $1000 each day? But what if I were to say you can set your own rewards? Would you be interested to know more...?
But online you will find hundreds of people trying to show you the way to a trading fortune. They can't all be right.
So how do you know what to believe? Have you seen endless offers for these same old recycled solutions? They say:
| | |
| --- | --- |
| | Order their trading system - (if only it were that simple) |
| | Develop the right mind-set - (hmmmm) |
| | Charting is the answer - (I wish) |
| | The answers are deep within - (grin) |
| | Toss a coin, throw a dart - (Have you tried cycles of the moon?) |
Each of them tell you their approach is the only way. They spend all their time arguing amongst themselves. That makes me chuckle - but makes another part of me angry. Really angry! Because it's not what they're giving you that matters, it's what they're not giving you.
By only showing you their own small part of the picture they're not teaching you the critical skills you need to trade. Without these skills, even the best systems or signals in the world will never produce consistent profits for you. But that fact is silently hidden from you...until now.
So who IS correct? Who will lead you to the truth? What are the skills you most need to learn...?
Well, allow me tell you a little about the revolutionary trading approach inside The Way To Trade. You can begin to apply it today and I'll guarantee you've never heard of anything like it before. It's a fresh but explosive idea and it's what will finally make the difference to your trading.
It's called The Trading Pyramid and the excitement it's generating is spreading like wild fire. I'll tell you more about The Trading Pyramid and what it will do for you in a few moments...
Out of cash and out of control
...But before you read any further, let me confess something: trading was in control of my life. My friends used to laugh at my obsession with the markets. I had a full time job but every spare minute was spent swamped in the markets. Newsletters, bulletin boards, books, courses, software, data services, tips and more. Oh man give it a rest! I was working full time just to pay for all of these.
If it moved I traded it - up and down, back and forth, stocks, futures, options - I just couldn't give it up. And the trading results? Well if there had been an award for the world's worst trader, I would have scooped the prize annually.
Week after week, month after month, cash was draining from my account. In fact I was only days from being forced to quit trading altogether as my account was nearly dry. The gut-wrenching feeling in the pit of my stomach was an almost permanent presence. Do you know the feeling I mean? The stress was unbearable.
But then one day it happened, I remember it clearly... a trading friend telephoned almost bouncing with excitement. He told me he had just read a trading book and that I simply must see it too. A skeptic, after all these years of disappearing cash, I'd heard it all before but took the plunge anyway.
Light at the end of the tunnel
Oh boy am I glad I did. Suddenly it all clicked into place and there was a hotlink to my brain. I soaked up everything I read like a hot dry sponge in a cold pool of water. Talk about having a smile on your face.
In a flash my trading took off and the profits started rolling in within days. First a few hundred dollars here, then a few hundred dollars there, then a few thousand dollars and more. It just kept on going - I was amazed and wondered where it was going to end. And all this from an account that was only days from total wipe-out. Can you imagine the feelings of joy this creates?
The Way To Trade was the book I mentioned. What I discovered was such a collection of fresh concepts, such a breakthrough in it's approach and was so jam-packed full of priceless ideas I just had to tell you about it, so it will help you in the way it helped me. In minutes you'll discover for yourself exactly why I'm bursting with such enthusiasm.
If you're like me you've been searching for answers to the trading puzzle for longer than you care to remember. But you have a priceless advantage over me. Whilst I sat and waited for The Way To Trade to fall into my lap, you've gone out and found it for yourself. If it's made such a huge difference to someone like me, can you begin to imagine what it will do for someone like you?
So what exactly has The Way To Trade done for me? Well it revolutionized my trading, gave me back control and demolished the stress. But best of all, do you remember that full time job I mentioned earlier? Well that's just a distant memory, because now I know that...
...Trading is the world's
fastest route to freedom
Yes, get it right and trading is the world's fastest way for you to get rich and be free. Here's just a sample of what it could mean to you:
| | |
| --- | --- |
| | No crazy dash through rush-hour traffic to punch the clock in time to save your job, just so you can do it all again tomorrow |
| | No pain-in-the-butt boss screaming orders at you all day long and hassling you with impossible deadlines |
| | Get up when you wish, go out where you want. Meet up with friends or spend time with the family. Heck you could just sit around and do nothing! |
And that's just the start...



...Imagine what else trading success
could mean to your life...


But listen up, because if you don't get it right, trading is the fastest way to go broke - flat broke.

Believe me - the difference between super-traders with bulging wallets and those without 2 pennies is so tiny you'll need a microscope to see it.

In The Way To Trade, John Piper finally spills the beans about how you can trade with supreme skill and then drive yourself to year after year of run-away profits!
This is not the tired-out, washed-up, recycled waste you'll see being pumped out by oh so many others. The Way To Trade is crammed full of revolutionary ideas and little-known concepts. You'll be amazed at its simplicity, but astonished at the potential rewards for you.
The chances are you've heard tiny snippets, but The Way To Trade will plug the gaping holes you see showing in other trading books. It's simply light years ahead of anything else. You'll discover how to attract a profits windfall like starving bears to a honey pie.
Master this astonishing breakthrough trading approach and you just cannot fail in today's markets. And it's just so simple to understand, you'll be kicking yourself for not discovering it sooner.
Can One Book Really Make This Difference?
Absolutely! You bet it can.
Listen, I'm not going to tell you that you'll make thousands of dollars every day and never have a drawdown again. If anyone tells you that, please laugh at them and show no mercy. I'm not going to say you'll double your money every few weeks or be out dating movie stars with your new-found wealth.
I'm going to give it to you straight. My address and phone number are on the bottom of every page of this web-site. You'll see I have a real e-mail address and I answer all questions personally.
Believe me when I say that if The Way To Trade doesn't revolutionize your trading, arouse unstoppable enthusiasm and fire-up your results to run-away profits then no other book, course or service will. And that's the plain and simple truth.
...Announcing...
A Revolutionary Breakthrough Approach To Trading
That's Sweeping World Markets And Exploding
The Profit Potential Of Traders Now
Forget just about everything you've heard from the latest so called trading guru. You will waste thousands of days and thousands of dollars trying to figure out if their approach works for you. The Way To Trade maps out a complete blueprint for your trading success from start to finish.
In The Way To Trade the exact steps you need to take in the exact order you need to take them are laid out for you to follow. Every last step is explained for you in full detail from A to Z. Nothing is left out, nothing is left to guess-work and nothing else is needed to piece it all together.
Here's just some of the diamonds hidden away for you inside The Way To Trade:
| | |
| --- | --- |
| | The three little-known stages you must pass through as a trader before you can even begin to make money. You'll discover where you are now and where to head next for maximum profits. Page 12. |
| | The four greatest secrets known to successful traders. Top traders are unable or unwilling to share these secrets - because they have an advantage over you. Their advantage is now revealed in full for you to see from page 60. |
| | 10 simple trading steps that you can start today to send your profits soaring into the stratosphere. You'll be amazed at how easily one of these steps is overlooked - the most important one. Page 199. |
| | "STOPS! Are they really necessary?" Could your profits rocket without them? Finally an end to the fiercest ever debate in trading history. WARNING: be prepared for an earth-rocking answer. Page 105. |
| | Learn critical lessons at the expense of others in these 55 steps to trading riches. Don't even think of taking another trade until you discover how to avoid step 21, or you may not survive to regret it. Page 15. |
| | EXPOSED: the truth about market myths peddled by the "experts" and designed to mislead and misinform you. For big-time profits you will learn to side-step the loss-making reaction they want you to have. Find out how and why on page 195. |
| | Unleash your potential with nine tips to gain an unfair advantage over other traders. You must agree to keep these to yourself and use them sparingly and honorably to give others a fighting chance to profit. Page 124. |
| | Learn the two most important factors to consider before you open your very next trade and why ignoring either one of these could close you down completely...absolutely priceless. Turn to page 48. |
| | Immediately discover the one deadly thing you should never (ever) do as a trader - and you will be doing it already without even being aware. As early as page 3. |
| | 10 simple proven strategies to jump-start your trading and light the fuse on years of bumper profits. Your trading account is literally crying out for at least one of these. Begin on page 165. |
| | How to create your very own killer trading system using easy step by step instructions. You'll have profits stampeding towards your wallet like a herd of wild animals. Starts on page 83. |
| | Pull the trigger on every great trade, every time and banish hesitation forever - an easy four-step solution - and it works!! This is worth it's weight in pure gold. Page 98 |
| | What's the one most important thing successful traders all have in common? (Hint: it's nothing to do with their system). If you want to be one of them, you'll find out what it is on page 41. |
| | How to skillfully dodge those killer wipe-outs that would leave your trading career in ruins and your loved ones in the street. This alone is worth 10 times the price of the book. Discover why on page 53. |
| | Discover the 10 critical components that must be present in every successful trading system. Leave out just one of these and you may as well burn your cash in an open fire. You simply cannot find these listed anywhere else but you cannot afford to be without them. Start on page 29. |
| | Empower your hidden trading genius with 155 questions to ask yourself about your trading. WARNING: Skip this section if you fear trading success and what that would mean to your life. See page 257. |
| | How to uncover those dream trades with the lowest risk but huge potential rewards. They're easy to find...if you know where, when and what to look for. You'll be tracking them like a heat-seeking missile after visiting page 122. |
| | How to construct your very own Trading Pyramid. It's the revolutionary key that will turn the golden lock in your trading treasure chest. You've never seen anything like it before, head straight for page 4 to begin. |
| | The one simple secret that could make the single biggest difference between run-away success and total trading failure. You'll be shocked to the bone when you discover why. See page 183. |
| | Oh Man! And this is just the tip of the iceberg... |
You could waste years of your time studying tons of trading courses and books whilst your account balance slips away. Forget all those, this is the only book that uncovers and exposes the real world of trading with this amazing breakthrough approach. You could be just minutes from lifelong prosperity.
But you don't have to take my word for it - here's what other trading experts have to say:
The Way To Trade Gets Rave Reviews
From Experts Around The World
"One of The Most Intelligent Books In Trading Literature…"

"The Way To Trade is one of the most complete and intelligent books I have yet to encounter in trading literature. John Piper approaches the subject of trading with vast common sense and a wealth of research and trading experience.

The author is a natural teacher, which makes reading his book an easy and pleasurable experience. I highly recommend The Way To Trade to anyone who wants to succeed at trading and is willing to do what it takes."

- Adrienne Laris Toghraie, MNLP, MCH
President of Trading on Target
Traders Coach

---

"An Essential Lesson Most Never Get…"

"In the book you are about to read, John Piper takes you beyond theory. He provides an essential lesson that most never get."

- Dr Alexander Elder
Author of Trading for a Living

---

"A Thought-Provoking Book…"

"John Piper's thought-provoking book reflects his individual approach to effective trading in financial markets. Not only is his own success a powerful argument for reading it, but the fact that markets are becoming increasingly volatile and divorced from fundamental values is a powerful reason for ensuring that knowledge is updated as regularly as possible."

- Tony Plummer
Author of Forecasting Financial Markets

---

"This Book Is Essential…"

"John Piper's success is based on a combination of a clearly defined strategy, disciplined money management techniques, and the ability to adapt to differing market conditions. This book is essential for investors prepared to look below the surface and profit consistently from market price action."

- Mike Estrey
Investment Strategist

---

"How To Achieve Long Term Trading Success…"

"Brokers love a trader who is successful over the longer term. John Piper is such a trader and this book explains how and why."

- Charles de Roeper
Berkeley Futures Limited
You Don't Have To Spend Thousands of dollars
To Learn a Killer Trading Method.....
...believe it or not this may even delay your route to profits. You already know the vast expense of all the seminars, courses, software and services. More importantly you know about the crushing weight of month after month of vanishing cash.
Order this remarkable e-book right now and be reading it within a few short minutes via our instant download.
John Piper usually charges $200 per hour for traders to consult with him and receive the priceless benefits of his market experience. Jam-packed inside The Way To Trade for you is every lesson he's ever learnt in 16 years of trading. That's 16 years times $200 per hour.
Heck if there were only 24 hours worth of knowledge in The Way To Trade, that would be a value of almost $5000. But in fact there's many times more than 24 hours worth of value inside!!
I would have gladly handed over $5000 for The Way To Trade, because it has made me many multiples of this amount in truckloads of profits. But $5000 would mean there's a possibility you may not order and you'll never benefit from the gems inside.
$1000 is a tiny fraction of what The Way To Trade could be worth to you but you'll be shocked and surprised to discover it's even less than one-tenth of this amount. Yes, you can start your amazing journey to profits now for ONLY $67!
What am I crazy? For about the price of one weeks grocery shopping you could be feeding yourself and your family for an entire lifetime!! What is that actually worth to you?
WARNING!
This price may increase at any time without notice, so please do not delay. You'll be beating yourself up if you return tomorrow and the price has doubled, as I cannot guarantee to hold this price past midnight tonight.
Claim your copy today! This 273 page book can be downloaded and read instantly on any pc with the free Acrobat reader. At less than 25 cents per page it is worth every last penny...
But to make it an even more rewarding deal for you I want to throw in a killer bonus. Take a look at what this can do for you...
Revealed

- Secrets of Millionaire Traders
Guaranteed Bonus If You Order Now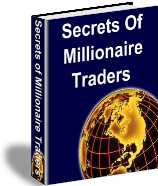 If you order right now I'll guarantee this incredible bonus allowing you to discover what made the difference to those who 'walk the talk' in today's markets.
In these exclusive interviews, millionaire traders reveal to you the inside secrets of how they sky-rocketed themselves to super-trader status - and how you can do the same.
This e-book is like "The Market Wizards" series of books, all rolled up, condensed down and summarized for you into 25 easy to understand, simple to follow rules, tips and secrets.
No fluff, no filler - just facts.
Follow these step-by-simple-step rules and you'll be speeding past other traders like a road runner on steroids. Some of these secrets are so powerful you'll be simply itching for the next trading day to begin.
FACT: Absolutely the easiest way for you to become a successful trader is to model yourself on those traders who are already successful. It's simple really.
FACT: Very few people are able to do exactly that.
Why?
Because almost every successful trader does what they do intuitively and doesn't have the slightest clue how to teach it to you.
That's where The Way To Trade is pure genius. The best definition of genius you'll ever hear, is "taking the complex and making it simple". "Simple" such that normal people, like you and I can use and apply it.
The Way To Trade has the unique ability to translate into "real life" and explain to you what will make you a truly successful trader. With just a glimpse of the awesome power of The Trading Pyramid you'll understand exactly why it will make such a difference to your trading. And believe me, once you "get it" you really do get it.
Make no mistake - after reading these e-books you've got everything you need to cash-in and begin to make a killing in the markets - but wait...
... there's still one final bonus
100% 'Better-Than-Risk-Free' Guarantee
In case you have any lingering doubts whatsoever, I want to make this opportunity as risk-free as possible (in fact even better-than-risk-free). So I will completely guarantee your success using The Way To Trade with my ironclad, rock-solid guarantee:
If, after reading through "The Way To Trade" you don't believe it is everything I say it is... if you aren't positively thrilled with all the moneymaking potential it has for you... if it doesn't give you goose bumps and several sleepless nights with thoughts of its potential... or if you're dissatisfied in any way simply return it within 56 days for a 100% money back refund.
That means you get 2 full months to "test drive", absorb and apply this astonishing trading approach and if you ever do want a refund it's on its way - no hassles and no silly questions. In fact you can keep the bonus e-book "Secrets of Millionaire Traders" even if you return The Way To Trade.
I've totally demolished any chance of risk for you whatsoever. Is it your trading dream to find risk free trades...? If so, you've just uncovered one of the finest risk free trades you will ever find.

Why would I make such a one-sided guarantee in your favor?
Well, the truth is I'm not really worried about refunds because I've seen how powerful The Way To Trade has been in my own trading (and for my trading colleagues as well). In fact, once you get your hands on this information and see the incredible potential, you'd have to be almost insane to return it. I can't possibly be any fairer than that.
Oh, how I wish I'd found it sooner!!
A step-by-simple-step blueprint like the one you'll receive in The Way To Trade would have saved me tens of thousands of dollars, years of wasted effort and what seemed like a life-time of frustration.
In fact The Way To Trade contains everything I wish I could have had when I started trading and the simple truth is this:
I would never again allow a friend or relative anywhere near a trading screen
until they have read The Way To Trade.
Since you've read this far, you've already proven you're a 'cut above' the masses. Most will just glance over a page and then blindly surf on, but you're different. You're reading every last word and this personal quality, this desire to seek out more, this attention to detail are all factors critical to your success as a trader.
You've already shown you've got what it takes to create your very own run-away profits frenzy. Why not go ahead? You can only gain from this offer - you owe it to yourself and your future to take advantage of this "better-than-risk-free" guarantee. The risk is entirely on my shoulders.
Click here now and you can be reading The Way To Trade in 5 minutes. There's absolutely no way you can live with missing out. The truth is, not one single person I know has ever made money by taking a pass when such an opportunity came knocking. Can you imagine your delight when you order The Way To Trade and see the difference it makes to your trading?
Trust your gut feeling and go for it! You'll be glad you did.
Sincerely,

Paul Handforth
P.S. Remember, with the "better-than-risk-free" guarantee you can try out The Way To Trade for 56 days - that's a full 2 months money back guarantee with no questions asked. You can even keep the bonus e-book Secrets of Millionaire Traders and you are trying The Way To Trade entirely at my risk.
P.P.S. The Way To Trade has fast become the "must read" book of the year for you as a trader, who's serious about profits and lots of them. Order now to discover what's causing all the excitement and what it will do for you. But you need to act quickly before we raise the price again.
P.P.P.S. Hey! You don't even need to make up your mind now. Read The Way To Trade at your leisure, digest it, apply it for 2 months and if you are even one percent unhappy during this time, simply return it and you've had it for free. What is the next step you will take to improve your trading? Order The Way To Trade now and it's only possible to gain.
Download Your Copy Here



Using Our Safe And Secure Servers







It doesn't matter if it's 2:00am in the morning!
© 2003-2023 Avalanche Direct Limited
Office 7, 35-37 Ludgate Hill, London, EC4M 7JN, UK

Any questions, please visit our Support Desk